About Seminar
Like all construction, breaking ground on your very first 3D-printed building requires sound architectural design and regulatory approvals. This one-day seminar has been carefully designed to empower builders with the proven tools they need to design code-compliant 3D buildings and win building permits fast.
The price is $1,699 per spot. Discounts are provided for groups of two or more.
Call to learn more about the seminar: (321)-367-6451.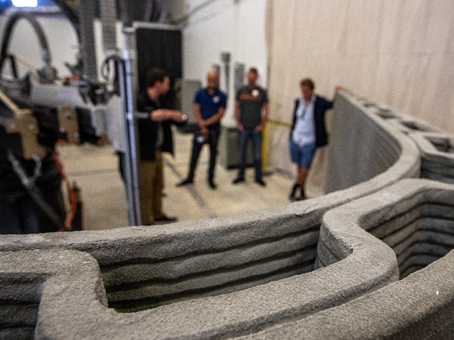 Who should attend
Professionals with construction experience: architects, estimators, project managers, general contractors, home designers, civil engineers, and building officials;
However, everyone who is interested in getting specific, industry-oriented knowledge is welcome to attend the Seminar. No construction or engineering education is required.
Why to attend
UNIQUE AND CANDID CONTENT. 90% of articles and studies about construction 3D printing were written by people who never 3D printed a single house. In our seminar, you will receive education directly from Apis Cor, an industry pioneer with a track record of completed projects and deep, extensive, insightful knowledge of emerging technology.
$1,699
$ 1,699 per spot which includes:
Apis Cor's proven step-by-step guide to securing building permits for 3D printed construction

Design criteria checklist for creating 3D print-friendly architectural designs

Code-compliant 3D construction document crash course including real approved 3D construction documents for you to keep

Comprehensive breakdown of code-compliant secondary construction techniques including foundations, roofs, window, doors, insulation, reinforcement, and MEP

Hands-on experience with real 3D printed wall sample.

Get access to second online course (C3D-1200) which covers the entire Construction 3D printing process from A to Z

3D Architectural and Regulatory Compliance Certificate of Completion (3D ARC Certificate) issued by Apis Cor

What is included: sample of 3D printed material,T-shirt, official certificate of completion, notebook, Apis Cor Literature, lunch and snacks. Logging and travel to Orlando, FL are not included.

Please note: no live printing or equipment showcasing included
LEARNING MODULES
Overview of Apis Cor's approach to 3D printed construction
Site selection, due diligence, architectural programming, entitlements

Anatomy of 3D printed wall systems

3D Design Parameters, constraints, and considerations
Construction Documentation
Obtaining building permits for 3D construction
Secondary Construction (Foundation, Roof, MEP, reinforcement, insulation,...)
Q&A
Multiple Choice Exam and Certificate Awards
Instructor
Trevor Ragno
Director of Construction Technologies at Apis Cor. After earning his Master's Degree in Real Estate Development, Trevor Ragno spent years developing commercial and residential projects throughout the United States.
With Apis Cor, Trevor Ragno led the planning and execution of multiple 3D construction projects, including the first commercially permitted 3D-printed building in America. As the author and lead instructor of Apis Cor University's certification courses, Trevor Ragno is one of the world's most qualified instructors for this seminar.
Where
CREDO Conduit
1001 N Orange Ave, Orlando, FL 32801
When
The seminar will begin at 10 am and end at 6:30 pm
January 21st, 2023
Call us
(321)-367-6451
Call us today to learn more about our upcoming seminars or to apply for a group discount