About Workshops
Our workshops cater to all levels of experience, from beginners to seasoned professionals. Throughout the event, you'll:
Learn from the experts at Apis Cor, pioneers in the construction 3D printing industry

Gain insight into the cutting-edge technology behind 3D printed houses

Experience live printing demonstrations with Frank and Gary in action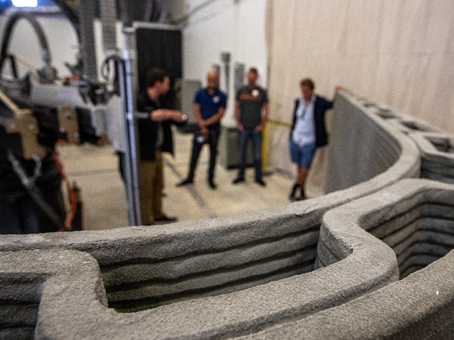 Over 60 Participants Attended Our Workshops
In 2021, we hosted a week-long event at our headquarters in Melbourne, FL, where over 60 attendees from across the nation came together for an extraordinary educational experience.
They had the opportunity to witness Frank and Gary in action, showcasing the power of 3D printing in construction.
Who should attend
Whether you're an architect, designer, or simply interested in getting hands-on experience with this game-changing innovation, our workshops are the perfect fit for you.
Why to attend
We aim to share our expertise and give you a solid understanding of this revolutionary technology. With a track record that includes a Guinness World Record for the largest 3D printed building and top awards at NASA's Centennial Challenge, you'll be learning from the best in the business.
Why to attend
Anticipated in July 2023 at our Melbourne, FL HQ, secure your Early Bird RSVP today to receive an invitation once the schedule is finalized and enjoy a 10% discount on your registration!